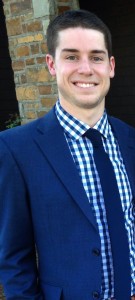 Adam Puterbaugh– Board Chair

Adam first became connected to the Junior Committee as a "day-of" volunteer for Blondes vs. Brunettes in June 2014. About a month after that event, he started attending the monthly meetings and in January of 2015 he joined the JC Board as the Walk and Longest Day Chair. Adam was recently elected to serve as interim Board Chair. Prior to being elected as board chair, he served as the Special Events chair, helping to support various fundraising initiatives and focuses on raising awareness at any opportunity throughout the year. He also assists with recruitment and sponsorship for Blondes vs. Brunettes. He graduated from Purdue University in 2010 and currently works as a Sales Consultant for Cardinal Health. Adam and his wife Heather reside in the Clintonville neighborhood and outside of work and the JC, he enjoys running, going to concerts, and volunteering through BESA at local venues in need of some extra help. He is determined to make a difference in the fight against Alzheimer's after seeing his grandparents fight against the disease firsthand.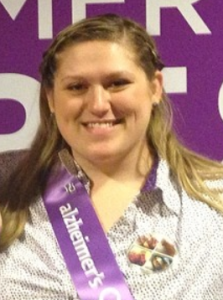 Hayley Mardis– Education & Advocacy Chair
Hayley Jones has been an active member of the Junior Committee since February 2013 and is currently serving her second term as the Education and Advocacy Chair.  She is a 2011 graduate from The Ohio State University where she received her BA in Strategic Communication.  In her free time, she enjoys spending time with friends and family and planning her upcoming wedding! Hayley's mom passed away from Alzheimer's in November 2013 and she is passionate about ending Alzheimer's and living in a world where there are survivors.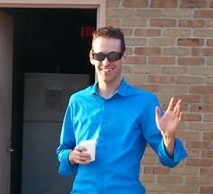 Matt Garrido – Volunteerism Chair
Matt Garrido joined the Junior Committee as a way to turn his life around after involvement in gang violence in his younger years. After spending time with dementia residents on a monthly basis for the past three years, Matt realized his passion for a world without Alzheimer's and now orchestrates two monthly volunteer nights for the Junior Committee. A traveler at heart, Matt splits his time between the Midwest, East Coast and West Coast. In his spare time, he enjoys perfecting his stamp collection and hanging out with his small cat named Tiger.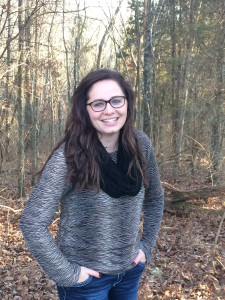 Kaitlin Watterson – Blondes vs. Brunettes Co-Chair
Kaitlin Watterson got involved with the Central Ohio Junior Committee after participating in Blondes vs. Brunettes in 2015. She originally joined the board as the Communications Chair & transitioned to Blondes vs. Brunettes Co-Chair in August 2016. Professionally, Kaitlin's background is in communications and PR. She currently manages change at Cardinal Health. Outside of work, Kaitlin gives back to the Columbus community by volunteering with organizations such as the Alzheimer's Association, United Way, A Kid Again and as a professional advisor to a student organization at The Ohio State University. For fun, Kaitlin enjoys spending time with family and friends and attending concerts and sporting events. Kaitlin is passionate about a world without Alzheimer's. After all, memories should last a lifetime.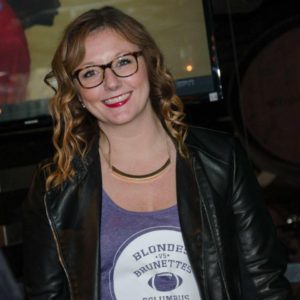 Jena Callahan – Blondes vs. Brunettes Co-Chair
Jena Callahan joined the Central Ohio Junior Committee after participating in Blondes vs. Brunettes in April 2014 and has held the BvB co-chair position on the JC board since October 2014. Professionally, Jena is an Account Manager for Baesman Group and oversees the daily production of in-store signage for LBrands and mailers for Alliance Data. She earned her Bachelors of Science in Marketing from the University of Findlay, not far outside from her hometown of Columbus Grove. Other ways Jena gives back to the community are through the American Cancer Society on the C2C planning committee and the young professionals group; as well as volunteering at Rock City church. In her free time, Jena enjoys spending time with family and friends, country concerts, sporting events, taking her Yorkie, Gizmo, to the park, working out and running races.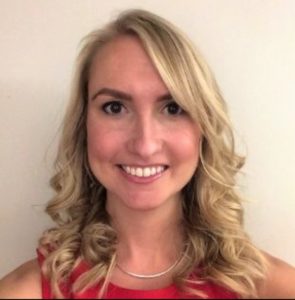 Kelly Parnell – Secretary
Kelly Parnell resides in the Short North area. She earned a Bachelor of Science Degree in Business Economics from Miami University and attended The Ohio State University for her Master's Degree in Finance. She is currently working as an Investment Banking Associate in downtown Columbus.  Kelly has previously served as the Communications Chair of the Junior Committee, as well as the President of the Specialized Master's in Finance Council at OSU, and served on the Internal Affairs Committee of Fisher Graduate Women in Business.  She has also worked with the Healthworks! program at Cincinnati Children's Hospital to combat childhood obesity as well as on the Junior Council at the Lurie Children's Hospital focused on pediatric HIV/AIDS.  For fun, she coaches youth girl's lacrosse in Olentangy.  Kelly's interest in serving on the Junior Committee stems from her family's long history of Late-Onset Alzheimer's. She has a great passion for raising Alzheimer's awareness and fighting for a cure!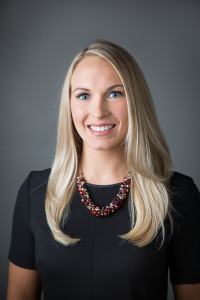 Katherine Schultz – Community Events & Outreach Chair 
Katherine Schultz joined the Central Ohio Junior Committee in January of 2015 and recently became the Community Outreach Chair. Katherine is a native of Columbus but lived in Dallas, TX for five years after graduating from Ohio University. She works in finance at Alliance Data. Her hope and goals for the junior committee are to raise awareness and educate the Columbus community about Alzheimer's Disease.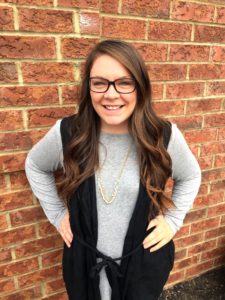 Brittany Hablitzel – Communications Chair 
Brittany Hablitzel is the newest member of the board, joining us as the newly elected Communications Chair. She decided to join the Junior Committee after being involved with Blondes vs. Brunettes 2016. She has had a long history of community involvement through her sorority, Delta Phi Epsilon and is excited to continue this with the Junior Committee. Brittany graduated from Shawnee State University with a degree in Business Administration and is currently working as a Title Assistant at Northwest Title. She is excited to take on the role as the Communications Chair and looks forward to helping the Junior Committee share its vision for a world without Alzheimer's Disease.