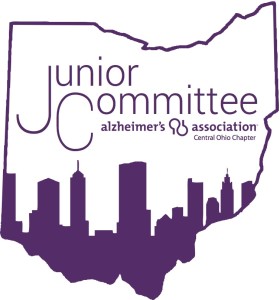 The Junior Committee (JC) was established in 2013 to work in conjunction with the Alzheimer's Association, Central Ohio Chapter to raise awareness among local young professionals. Ohio young professionals make up a powerful and influential group.  We hope to gain their support and leadership in the fight against Alzheimer's disease.
Our vision: a world without Alzheimer's.
Our mission: The Central Ohio Alzheimer's Association Junior Committee is a supportive group of young professionals driven to raise awareness, funds and volunteer efforts with the charge to End Alzheimer's.
The JC's annual fundraising events include RivALZ, The Longest Day, and Walk to End Alzheimer's.  In addition to fundraising events, the JC hosts education and networking happy hours throughout Central Ohio.
All funds raised by JC benefit the programs and services of the Alzheimer's Association of Central Ohio. This includes education, counseling, a 24/7 Helpline, and support groups as well as research to find better treatments and eventually a cure.
Be sure to check out our blog, as well as the blog of one of our members, ALZScience.
If you're interested in becoming a JC member or learning more about our events please contact us at: alzcbusjc@gmail.com.