Blondes vs. Brunettes 2016 Recap: Leaving it all on the field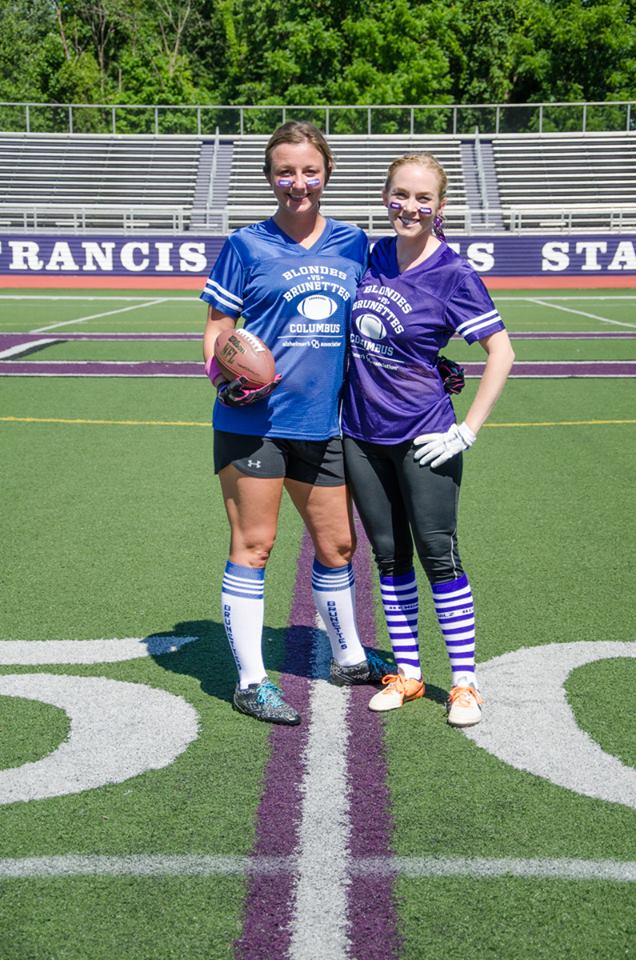 This year's Blondes vs. Brunettes season was one for the record books. Six months of planning, weeks of training camps and practices, countless happy hours and fundraising, plus more players than ever before, came together for the ultimate showdown on June 25, 2015 at St. Francis DeSales High School.
The result? The Brunettes won out over the Blondes, but together, the two teams and their supporters raised $44, 172.70 toward a world without Alzheimers, more than $9,000 over goal!
Our 2016 BvB Co-Chairs Sarah Arp and Jena Callahan were a large part of the driving force behind this incredible event. Learn more about their experience as co-chairs in our latest Q&A post.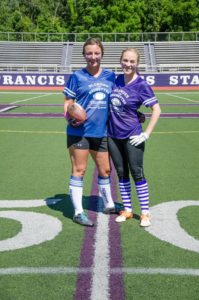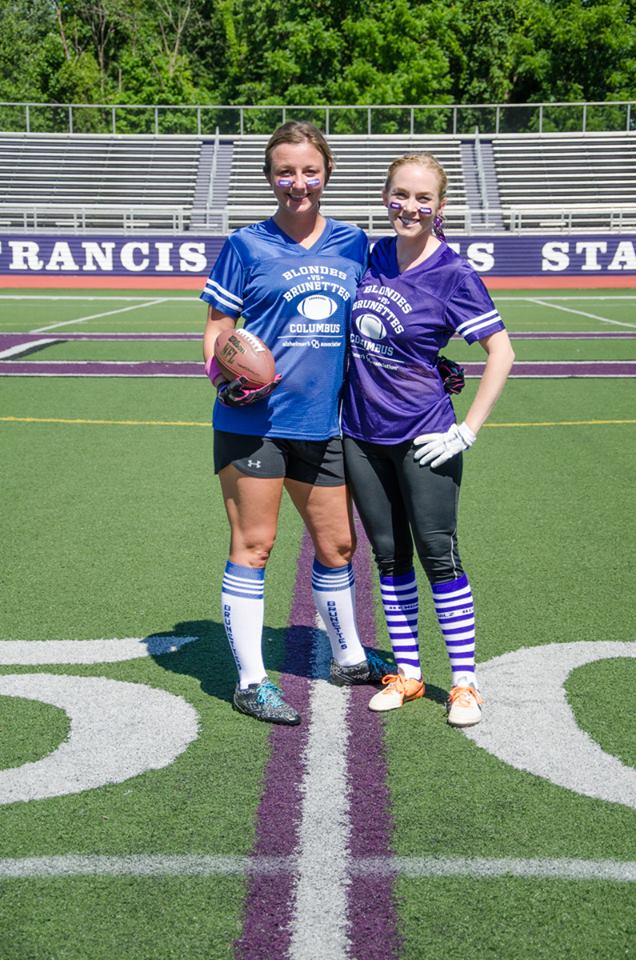 Why are you involved with BvB?
Jena: I got involved with BvB in 2014 initially to meet new people, make new friends, get involved in something larger than myself, to make a difference through volunteer work. Currently, I'm still involved for all of those reasons, in addition to the friendships formed, the energy and amazingness the JC shows and to see a world without Alzheimer's.
Sarah: I moved to the Columbus area two years ago and wanted to get involved with the Alzheimer's Association. I saw that they had a Junior Committee, which was perfect because I wanted to meet new people that had the same passion as I did. When I attended my first meeting, it was two months before BvB. I was hooked at the first meeting!
 Tell us about the behind the scenes aspect of planning BvB for months beforehand. What does it take to put an event like this together? 
Jena: You want to know about the behind the scenes life? Ha! You say you do, but do you REALLY? Have you ever heard the saying, "I have put blood sweat and tears into this"? Well that is 100% true. First practice I had to take an injury time out for a bloody nose, we run our butts off at training camp and practice sweating, and there truly are moments when you are overwhelmed and tears flow.

Really though, it's all amazing and I wouldn't trade planning this event for anything – it's why I've come back year after year… that or they couldn't find any other fool to take over;)

Sarah and I have spent many nights at her house with our computers just powering through things. This year we created a completely new website so that was our initial challenge. We've held conference calls with other successful chapters across the country to get their thoughts, opinions and ideas. We've made timelines, happy hour lists, called locations for fundraisers/happy hours, worked with each committee having monthly meetings in addition to the full committee meetings, we've made to-do lists, and more to-do lists, and MORE to-do lists.

Sarah: It takes a lot of planning. Jena and I started really diving in around November. We joked that it is like a part-time job (sometimes even a full-time one). Our first goal before January was to figure out how we wanted to structure the sub-committees. After that, we created a year calendar with events so we could get an idea of where and when things would be. Once January hits, it's officially BvB season. Our subcommittees and full committee start meeting once a month. During that time, we are pushing recruitment and fundraising. It truly takes a team to put this event on. Not one person can do everything and you have to delegate responsibilities out.
What is it like to see both sides as a player and a Co-Chair? 
Jena: Seeing both sides of the event as a player and a co-chair is a really cool feeling. You see the entire event come together knowing you had a huge part in everything is such a reward as co-chair.

I was only JUST a player for one year, and even then I was a captain and heavily involved with the planning process. But no matter what part you play, it's just really cool come game day to see the event play out as a REAL game with real fans, real announcers, real concessions, etc. 

Sarah: I think it's definitely an eye opener for anyone to play and then be on the committee. Last year was my first year with BvB and I played but helped out a tiny bit on the committee because of the JC. This year I dove right in and wanted to a Co-Chair. I would strongly encourage all players to join the committee whether it's this year or in years to come. I think it makes you understand and appreciate how this event comes to life. I also think since we're all young professionals, it's a great time to learn new skills and improve certain skills.
 What's your favorite thing about being involved with BvB?
Jena: My favorite thing about being involved with BvB is gaining the experience. It's truly helped me a lot in my professional career. I also really like organizing, planning and coordinating things. I also think a huge plus is getting to know all kinds of people I would have normally never met.
Sarah: That we raised a TON of money this year and there were a TON of new faces! That's technically two but they go hand in hand together I think.
Why do you think BvB has grown so much in Cbus? What motivates people to play or draws them to it? What drew you to it?
Jena: I think BvB has grown so much in Columbus because it provides a great experience year after year, participants are more likely to share their experience with their friends and they might play the next year. Sarah said multiple times this year "how does this impact the player experience?" and that is such an important question. Will this incentive, this happy hour, this information somehow impact the player experience in a good way? great way? AMAZING way? I think this year we've done such a great job co-mingling and keeping all lines of communication flowing and open.

I think the two biggest factors that motivate people to play is they are either A) directly affected by the cause or B) want to get involved with something in the community to give back – this is a fun way to do so!

What drew me in? I'm sure so many people have heard this story – but my best friend had just moved to NYC and found BvB. She suggested I looked into the Central Ohio chapter and joined as soon as possible. I had just moved to Columbus and worked from home so I thought it would be a great way to meet new people and put some volunteer experience on my resume. Little did I know I would become so involved and be unable to walk away from the amazing family I have created within the Association and the JC.

Sarah: I think a lot of the new players and coaches this year were individuals who were trying to meet new people in the community and also wanted to give back at the same time. It's not easy finding players and coaches in the Columbus market because there are so many other activities going on. I believe word of mouth and social media worked the best for us this year.
 If you could describe BvB 2016 in one word, what would it be? 
Jena: Impressive.
Sarah: Impactful.
 Jena, as this was your third year being involved, how was this year different from others? 

I think this year was different than previous years because the veterans are all forming more personal relationships and overall the energy was higher. I think this year was our largest number of veterans, so we really had an opportunity to pave the way with the rookies. We also had a large number of rookies participate, which is great for fresh ideas!

Sarah, describe your experience has being a first year co-chair.

I LOVED IT! I'm not going to lie, it takes a lot of work but it was an incredible experience. Jena and I got along so well and had the same drive and organization skills which truly helped. We were in constant communication with each other about what needed to get done and sharing ideas. I learned a lot about myself and learned new skills during this experience which I can take back to my work and personal life. I would strongly suggest to anyone who wants to improve/learn how to manage an event and people to join the BvB committee. To be co-chair we do ask that people sit on the committee first then run for co-chair the year prior. There are a lot of leadership roles in the subcommittees that you can lead as well! 

BvB exceeded goal by almost $10,000 this year. What do you think made it so successful? 

Jena: I know I keep saying this but it's the energy and hype between the players. Everyone had such a great time this year and seeing others so passionate about a cause makes you MORE passionate. In addition to that, there was a huge fundraising battle in the last month of the season. I'm not sure if all of these people know they were involved, but they were used as a target of "I have to pass ____." It was really amazing to see the amount of money the top five individuals raised, especially Sarah – girl is a rock star at fundraising! I also know that both myself and Kaitlin had set our original goal at $1000 and about one month left I was $40 or so away from my goal and she challenged me to pass another player with her. We both ended up at over $2,400 individually. That's almost 150% more than our original goal!

We also had a few sizably large fundraisers that really helped the players/coaches increase their fundraising thermometer.

Sarah: We had some great fundraisers this year, which made a huge impact. A couple of them were new fundraisers too which is always scary to try new events because you don't know how the participants will like them. I will give a shout out to Team Brunette for their raffle they did as a team this year. That was a huge success and new this year. Also, our players rocked it this year in fundraising. We had more individuals than last year which helps but our participants were out there fundraising all the way to the end.
What does this mean for next year? What will BvB 2017 be like? 
Jena: Hopefully next year will be bigger and better. Hopefully we continue to exceed our goal and just knock everything out of the park!
Sarah: BvB 2017 will be bigger and better than 2016 that's for sure! Even as we were planning 2016, we were making notes for 2017 on ways to improve things. I think we will have a lot more players this year because we had girls whose friends came to watch this year who want to sign up for 2017.
Any other thoughts? 
Jena: Sarah has been such an amazing co-chair this year. Thankfully she decided to take the leap with me. We truly worked together so well and complimented each other's strengths.
I also can't say thank you enough to our AMAZING planning committee that we had this year. They have been such a huge help and such an asset to the entire process.
Sarah: I just want to thank all of our participants, committee members, sponsors, volunteers and the Association again for all they did this year. BvB is growing every year and it has to do with the support it receives from all these areas. I hope that everyone comes back for 2017 and brings a friend or two with them!