Recapping this year's Alzheimer's Advocacy Forum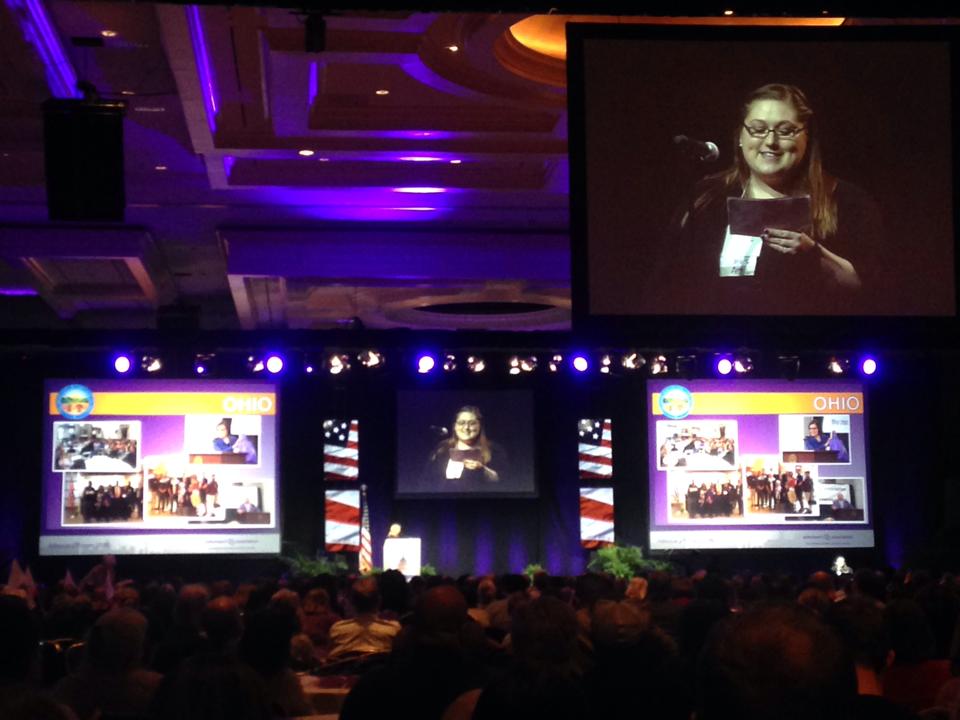 Earlier this month, the Junior Committee sent a group to DC to paint Capitol Hill purple for the Alzheimer's Advocacy Forum. Our Education and Advocacy Chair, Hayley Jones, recaps the experience here!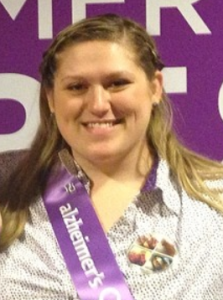 About Hayley: Hayley Jones has been an active member of the Junior Committee since February 2013 and is currently serving her second term as the Education and Advocacy Chair.  She is a 2011 graduate from The Ohio State University where she received her BA in Strategic Communication. In her free time, she enjoys spending time with friends and family and planning her upcoming wedding! Hayley's mom passed away from Alzheimer's in November 2013 and she is passionate about ending Alzheimer's and living in a world where there are survivors.
---
In 2013, I was asked to attend the annual Alzheimer's Advocacy Forum in Washington D.C. by Ty Pier, the Advocacy Board member on the Junior Committee. At the time, I was excited for the opportunity, but I didn't think my attendance would make a difference. How could my story change the way our leaders fund Alzheimer's research? Is Alzheimer's really THAT big of a deal?
Alzheimer's is THE most expensive disease in America. It IS that big of a deal.
During my first trip to the forum, we asked Congress to pass the Alzheimer's Accountability Act. This would require Congress to work with the National Institute of Health to come up with a realistic budget for research. Up until this point, Congress had been creating budgets without any knowledge of how much money was actually needed. I was shocked. You're telling me that Congress controls the money we need for a cure, but they haven't asked anyone how much a cure would cost? That will never work!
A few months after the forum, we learned that the Alzheimer's Accountability Act passed through the House and Senate and President Obama had signed it. WE DID THAT. I DID THAT. I had a part in making Alzheimer's history. My story, along with the stories of 900 people from across the country, made a difference.
Fast forward to 2016: I just got back from attending my third forum! This year, I was given the great honor of representing the entire state of Ohio during the opening night roll call ceremony.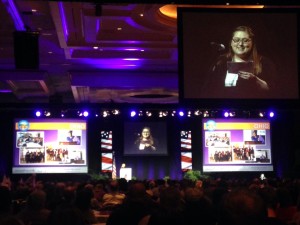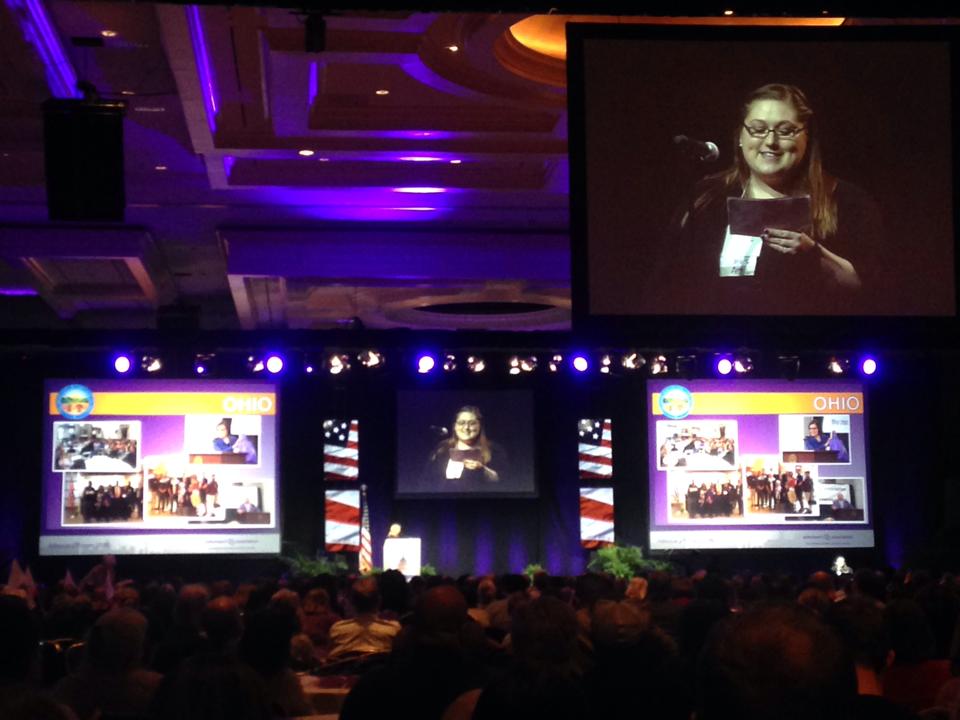 This year, we had ten members of the Junior Committee attend the forum, which is more than we've ever had attend before! Each of us earned scholarships from the National Association by attending additional meetings with our members of Congress here in Ohio. While in our congressional meetings, we had three specific "asks" for our leaders.
Our first ask was for an additional $400 million for research during fiscal year 2017. $400 million will bring us closer to the total of $2 billion we need each year to find a cure by 2025. As of today, we receive just under $1 billion.
Let's go over a few facts and figures about current research and dollars:
Alzheimer's disease is THE most expensive disease in America.
Alzheimer's disease is the 6th leading cause of death but the only one that doesn't have a prevention, cure, or way to slow it down.
In 2016, Alzheimer's and other dementias will cost the nation $236 billion.
$160 Billion in Medicare and Medicaid dollars are spent on those living with Alzheimer's.
Only $991 million are spent on Alzheimer's research.
Our second ask was for all of our leaders to sign onto the HOPE for Alzheimer's Act. The HOPE Act would ensure doctors provide a care plan for any new diagnoses of Alzheimer's. Care planning is crucial to improving the outcome for the individual and their family. The HOPE for Alzheimer's Act would also ensure the dementia diagnosis and the care planning are documented in the medical record.
A few facts and figures about the HOPE to Alzheimer's Act:
Will reduce Medicare costs associated with caring for people with Alzheimer's disease.
Builds upon existing Medicare coverage of a diagnosis and would provide the time doctors say they need to talk to their patients about an Alzheimer's diagnosis.
Over a 10 year period (2016-2025), a care planning benefit would reduce federal spending by a total of $692 million.
The last ask was for a new bill referred to as PCHETA (Palliative Care and Hospice Education and Training Act). Palliative and hospice care, with a focus on easing symptoms and reducing pain and stress, and increasing comfort, can improve both the quality of care and life for those with advanced dementia.
A few facts and figures about PCHETA and Alzheimer's disease:
Up to half of dementia patients have documented pain in the last weeks of life
Dementia patients who receive palliative care at the end of life are 15 times less likely to die in a hospital.
Families of individuals with dementia who are enrolled in hospice have a greater satisfaction with patient care.
Our trip to the 2016 Alzheimer's Advocacy Forum was an absolute success. We met with staff for Congressman Stivers, Congressman Tiberri and Congressswoman Beatty and they were all very receptive to us. Congressman Stivers and Congresswoman Beatty have already signed onto the HOPE for Alzheimer's Act and the PCHETA Bill.
On top of learning more about Alzheimer's and advocacy while at the forum, we had FUN! We got to share our documentary, Elephants in the Room with other young professionals from across the country, we shook hands with Senator Rob Portman, and we walked all over our great Capitol sharing our passion to End Alzheimer's!
For additional information about this years "asks", please read more here.
If you'd like to join us in DC next year, please contact Hayley Jones (Hayley.Alzcbusjc@gmail.com).